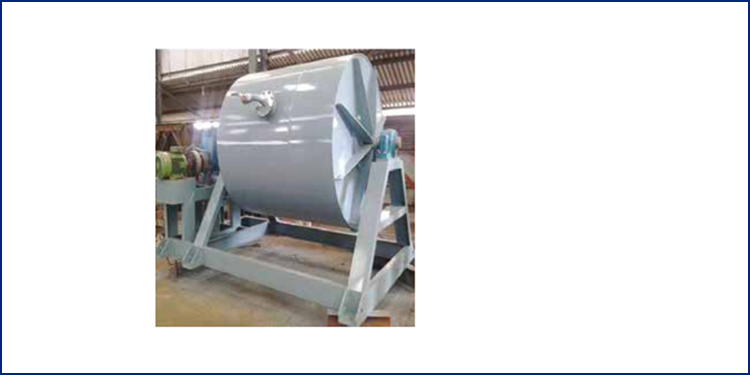 The sides of the shell and the shell will be made up of M.S. Plates.The mill will be provided with a shaft appropriate to the diameter of the mill which will be welded and turned through from one end to the other and the mill will run free on self aligned roller bearing fitted with heavy duty pedestals. The mill will consist of one opening and two lids one for charging and the other for discharging fitted with a ball valve. A ball valve will be fitted at the side of the shell for gas discharge.The mill will be driven by a grid gear and pinion. The pinion will be coupled to a suitable gear box and that in turn coupled to a motor of appropriate H.P.The full assembly with the motor and gear box will be mounted on a three piece stand fabricated from heavy duty channel.
This type of sand mill consists of a Jacketed vessel of appropriate diameter. All the contact parts i.e.the rotating shaft,the disc and the inner shell of the Jacketed vessel consist of S.S.material. The output of the mill depends upon the capacity of the shell.The peripheral speed of the mill is between 12 m/s to 18 m/s depending on the size of the mill.
The grinding media is extremely fine. uniform and dispersion is achieved by means of glass beads ranging from 0.5 mm to 1.5 mm. The discharge is made of two half mesh screens which can be easily removed and cleaned. The unit is fitted with a volumetric pump for variable discharge.
A ball mill is a type of size reduction machine used to grind and blend materials for use in mineral dressing processes, paints, pyrotechnics, ceramics. It works on the principle of impact and attrition: size reduction is done by impact as the balls drop from near the top of the shell. A ball mill consists of a hollow cylindrical shell rotating about its axis. The axis of the shell may be either horizontal or at a small angle to the horizontal. It is partially filled with balls. The grinding media is the balls, ""Which may be made of steel (chrome steel), stainless steel, ceramic, or bber. The inner surface of the cylindrical shell is usually lined with an abrasion-resistant material such as manganese steel or rubber. Less wear takes place in rubber lined mills. The length of the mill is approximately equal to its diameter.
Range of Products :
Applications :
Features :
Specifications
| | | | | | |
| --- | --- | --- | --- | --- | --- |
| Ball Mill | 4' X 4' | 5' X 5' | 6' X 6' | 7' X 7' | 8' X 8' |
| Shell Thickness | 14mm | 16mm | 19mm | 20mm | 22mm |
| Gear Box | 5" FSM | 6" FSM | 9" FSM | 10" FSM | 12" FSM |
| LID Size Opening | 14" x 14" | 15" x 15" | 16" x 16" | 16" x 16" | 20" x 20" |
| Shaft Size | 100 mm | 125 mm | 150 mm | 175 mm | 200 mm |
| Motor H.P. | 15 | 30 | 50 | 75 | 100 |
| Shell Capacity | 1450 L | 2750 L | 4800 L | 7600 L | 11,000 L |
| Output Litres | 600 L | 1100 L | 1920 L | 3040 L | 4500 L |